"Quantum programming workshop travelling to your city"
Quantum Drive is our spring and summer project in 2019.
We travel by our car to various venues and teach the basics of quantum programming and quantum computation by doing 3 days workshops.
Our target countries are the neighbours of Latvia, the Eastern Europe, and the Balkan countries.
Our aim is to reach more than 400 participants by driving 20.000 km through 20 countries in 100 days.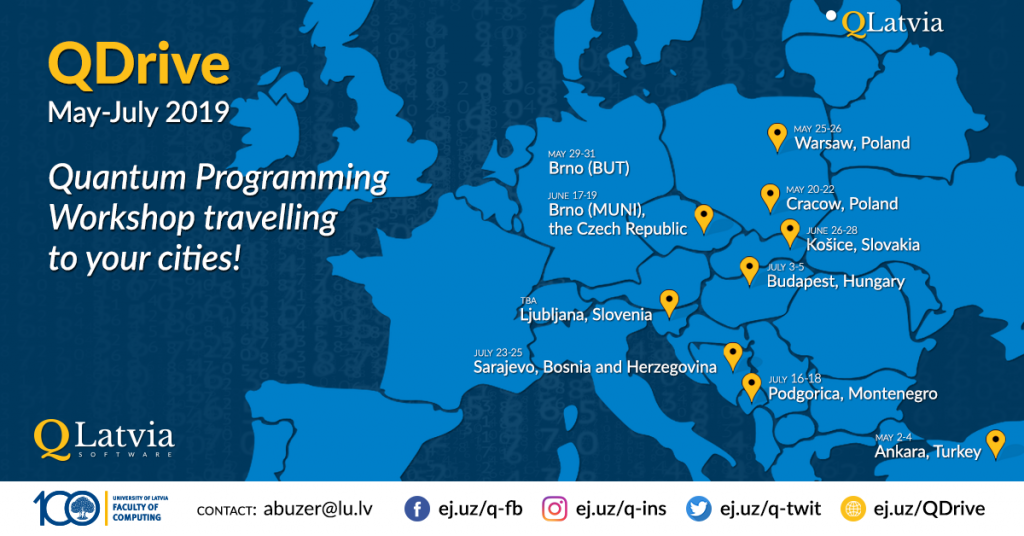 Quantum Host
If you are interested in hosting one of our workshops, please check QHost page for further details.
Workshop Outline
Please check Workshop Outline page for the details.
Driving Schedule
The confirmed dates and hosts are given below.
QDrive Statistics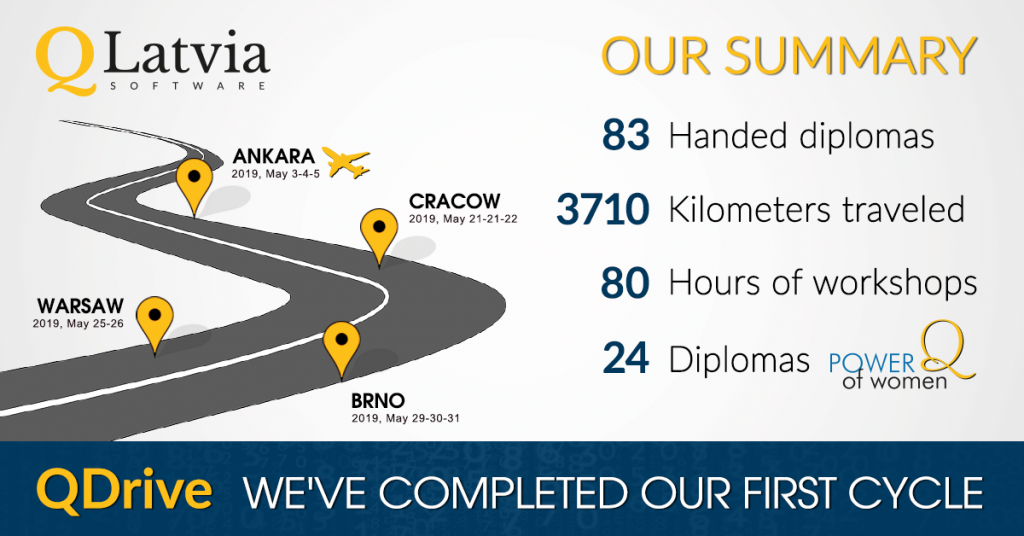 Venue
#application
#accepted
#first day
#diploma
km
Ankara@TR
149
42
36
33
16
✈
beginning of the first cycle from Riga
0
giving a seminar in Gliwice@PL
998
Krakow@PL
29
29
9
11
1
1152
Warsaw@PL
45
32
30
25
4
1696
Brno-1@CZ
21
21
17
14
3
2252
ending of the first cycle in Riga (20 days)
3710
beginning of the second cycle from Riga
0
Brno-2@CZ
37
26
22
21
5
1236
Košice@SK
17
17
15
10
4
1811
Budapest-1@HU
65
49
27
26
1
2170
Budapest-2@HU
20
20
0
Podgorica@MNE
22
20
14
13
2
3016
Sarajevo@BIH
3341
Ljubljana@SI
ending of the second cycle in Riga (expected to complete in 55 days)
Project Team
Leader: Abuzer Yakaryilmaz
QAdministrator: Maksims Dimitrijevs
QDrivers: Maksims Dimitrijevs, Abuzer Yakaryilmaz, and Aleksejs Naumovs
QDesigner: Agnieszka Wolska
PR Officer: Maksims Ivanovs (February 2019 – April 2019)
Contributors:
Administrator of Jupyter Server: Mārtiņš Kālis
PR and organizational advice and help: Jeļena Poļakova
Content Editing: Matīss Apinis